We're not showing any signs of slowing down this summer! We're happy to announce our live music schedule for August and September 1! All performances are included with your Soaky admission and will take place by the Wipe Out Bar from 2-5 pm. Hope to see you there!
August 2 – Hayden Bright
August 7 – Bill Fonner
August 9 – David Martin
August 14 – Hayden Bright
August 16 – David Martin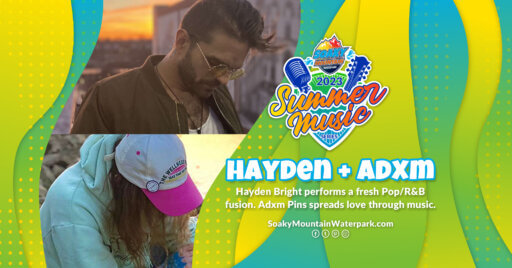 Hayden Bright Bio
Based out of Knoxville, TN, Hayden Bright steps into the scene with a fresh Pop/R&B fusion. With an eclectic mix of songs in his repertoire, spanning over 8 decades of music, HAYDEN BRIGHT can be found performing anything from Elvis Presley to Harry Styles, and almost everything in between. As for his original tunes, critics have said that HAYDEN's style is reminiscent of artists such as; Justin Timberlake, Post Malone, or even Justin Bieber.
Adxm Pins Bio
Marking his way through the industry with a blend of unique sound mixtures and styles, Tennessee-based rapper, singer, musician, and producer Adxm Pins is pushing limitations with every release. Spread love and happiness.